BreadCrumb® Hawk Series
Introducing the Hawk, one of Rajant's newest industrial-grade high-performance BreadCrumb platforms that offer dual MIMO transceivers, up to 1.7Gbps aggregated data rate, higher throughput, and enhanced security performance.
The Rajant Hawk is a high-performance, dual-radio industrial-grade, wireless Kinetic Mesh BreadCrumb. Infused with Rajant's patented InstaMesh protocol, the Hawk offers higher throughput with enhanced security performance using 256QAM, 80 MHz channels, and hardware acceleration. The Hawk is reliable in extreme environmental conditions and has several mounting options, and contains two transceivers delivering MIMO operation over multiple frequencies for reliable and resilient connections. The platform combines high speed, highly flexible mobile connectivity to reliably power new applications at the edge with unlimited coverage through a Layer-2 multi-radio mesh fabric extended across the deployment.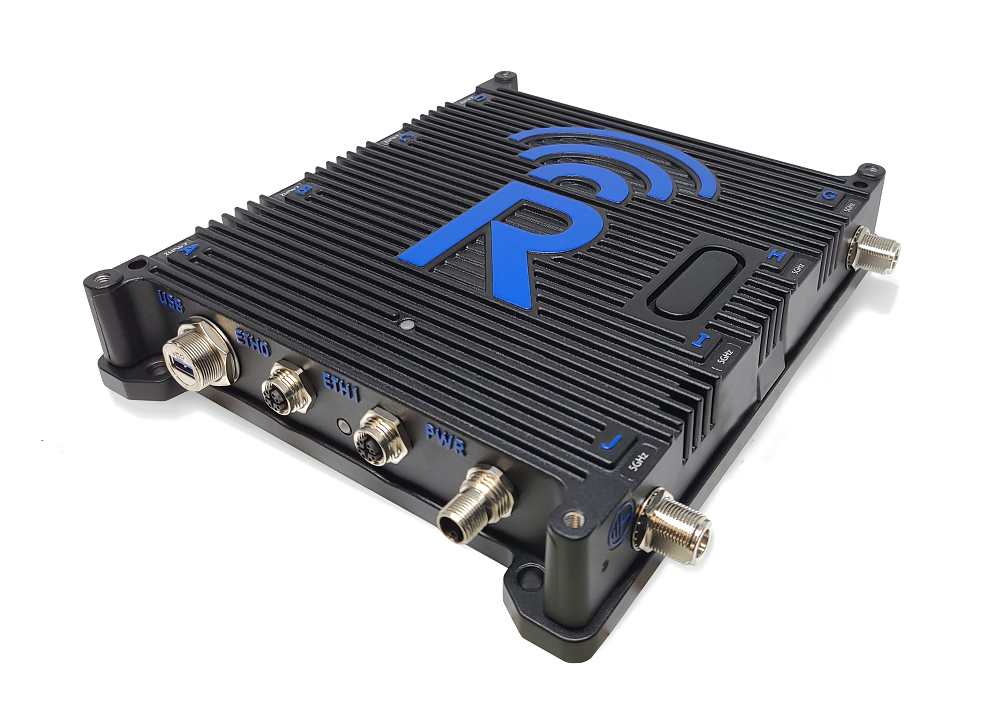 Rajant BreadCrumb® Hawk
The Hawk is our premier BreadCrumb solution and part of Rajant's initiative to develop deeply integrated solutions that securely combine data from connected people, vehicles, machines, and sensors, with machine learning. Hawk is optimized for mobility. The Hawk contains two transceivers to give high-performance data flow for applications such as LiDAR and CCTV working within a Peregrine infrastructure.
High throughput, enhanced security performance make Hawk the premier choice for IoT/IIoT mobility in today's autonomous networks.
Dual 2×2 MIMO radio:

One 2.4 GHz transceiver (300 Mbps signaling rate; DSS, CCK, and OFDM) plus one 5 GHz transceiver (866 Mbps signaling rate; OFDM with 256QAM; up to 80MHz channel bw; U-NII-1, 2A, 2C)

OR

two 5 GHz transceivers (866 Mbps signaling rate; OFDM with 256QAM; up to 80MHz channel bw; U-NII-1, 2A, 2C and 3 (5.15 to 5.85GHz).

Interfaces:

Ethernet – two M12 10/100/1000 auto MDIX with support for IEEE 802.3bt Type 3 or 38 to 60 VDC Passive PoE; no squid cables; USB: – USB 2.0 Type A host; DC power – 20 to 60V; and power consumption – 16W average, 36W peak.
Integrated 802.11AC

Wi-Fi Access Point and client service for compatibility with millions of commercial off-the-shelf Wi-Fi client devices such as laptops, tablets, smartphones, IP cameras, sensors, and other IP devices

Max RF TX Power:

30 dBm conducted.

Enclosure rating:

IP67.

Security:

Configurable per-hop, per-packet authentication between BreadCrumbs; multiple cryptographic options; and optional MAC address encryption.

Form Factor:

264.9 mm x 253.7 mm x 46.2mm (10.43" x 9.99" x 1.82") and 2946 g (6 lbs. 7.9 oz.).

Temperature:

Ambient (operating) -40°C to 70°C (-40°F to 158°F) and storage: -40°C to 80°C (-40°F to 176°F).
Rajant BreadCrumb® Comparison
| | | |
| --- | --- | --- |
| | Hawk | ME4 |
| Max Modulation | 256-QAM | 64-QAM |
| Max Channel Size | 80 MHz | 40 MHz |
| Maximum Transceivers | 2 | 2 |
| MIMO | 2×2 | 2×2 |
| Aggregate Signaling Rate | 1.7 Gbps | 600 Mbps |
| User Throughput | Up to 600 Mbps | Up to 80 Mbps |
| Processor Architecture | Atom x5 | ARMv6 |
| Processor Type | 1.8GHz dual Core | 600MHz dual Core |
| Interface Connectors | M12 | Squid |
| Encryption Processing | Hardware Accelerator | Hardware Accelerator |
| Radio Type | 802.11ac | 802.11n |
Download the Hawk Spec Sheet to Learn More

---
Place Your Order Today
Please fill out the form to be connected with the appropriate Rajant representative for purchasing the Hawk.
We'll show you how you can utilize Hawk BreadCrumbs to your advantage to build a fully mobile, mission-critical mesh infrastructure with high-performance industrial-grade dual-radio.